The day began with a lot of excited children, and a lot of excited volunteers. This excursion would be very special because the children of the kindergarten as well as the first three grades of the primary school would spend this day together. For many of us, it was the first time to drive with a Greek bus which was a sensation itself.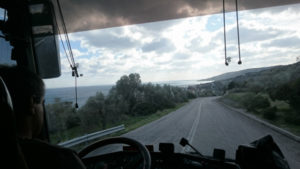 Arriving in Kallimasia, we watched an interesting presentation about how the childrens' grandmothers and grandfathers worked on the fields and produced bread. Also the children had the opportunity to knead the dough in old – fashioned pinafores, to seed by themselves and to learn how to move a scythe.
Afterwards, we went all together into the theatre room of the secondary school and watched the highlight of the day: a puppet theatre of the Odyssey. But it was not a normal puppet theatre; it was rather a light – show with many colours, amazing figures and exciting music. The children were fascinated by this spectacle which was a very funny and entertaining version of the Odyssey.
In the end, the children were very proud to take a picture with the actors and we drove back to the school with a smile on our faces.
To see all the pictures go into our gallery!